Your poster should be mounted by 14 September 2019 at 8:00 hrs and remove on 15 September 2019 at 18:00 hrs. We appreciate your cooperation in removing your poster in time and adhering to this schedule.
Participants should be present at their designated poster board(s) during session breaks during their scheduled poster session to answer any questions.
The Organizing Committee will not be responsible for posters that are not removed by the end of their assigned poster session.
Guidelines for Poster Presenters
Please note the following information for the preparation of your poster: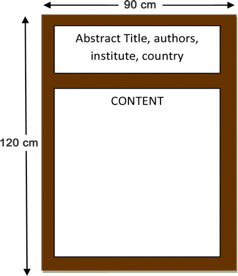 Please prepare your poster to fit the dimensions specified. It is recommended that posters be prepared on one sheet. Alternatively, presenters may display their material on several smaller sheets.
Allocate the top of the poster for the title and authors as stated on the submitted abstract.
The text, illustrations, etc. should be large enough to be read from distance of two meters.
Double sided tape and technical equipment will be available for the mounting of posters.
Staff will also be available to assist you.
DO NOT write or paint on the poster boards.
DO NOT use nails, push pins, screws, or any tools that will puncture the poster boards.
Please refer to the Final Program book that you will receive upon arrival at the forum for the poster board number assigned to you.
Please use the board that displays the same number assigned to you.